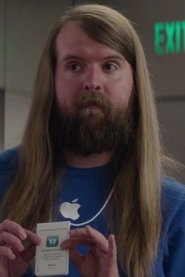 D.C. Pierson
Born December 27, 1984 in
From Wikipedia, the free encyclopedia

DC Pierson (born December 27, 1984) is an American comedian, author and actor. He is best known for his involvement in the sketch and improvisational comedy group Derrick Comedy.
Pierson was born in Phoenix, Arizona. He attended Mountain Pointe High School where he started acting and performing in a short-form improv group. He went on to attend NYU, joining the sketch comedy group Hammerkatz NYU in the fall of 2003. He worked as both assistant director and director during his 3 year tenure with the group. Pierson graduated from NYU's Dramatic Writing Department in 2007 with a degree in writing for television. He also made three brief appearances on NBC's Community, on which his Derrick Comedy costar plays a main character, and Pierson appeared as a Greendale Gazette member.

Description above from the Wikipedia article DC Pierson, licensed under CC-BY-SA, full list of contributors on Wikipedia.